Find Us
SAILSetc
141 High Street
Kelvedon
Essex
England CO5 9AA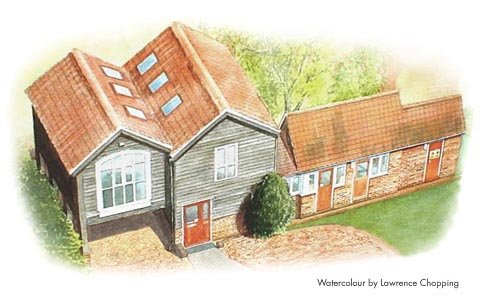 East Anglia
Kelvedon is situated 40 miles (65 km) north-east of central London. It is a village near the A12 (London to East Coast trunk road) midway between Chelmsford and Colchester.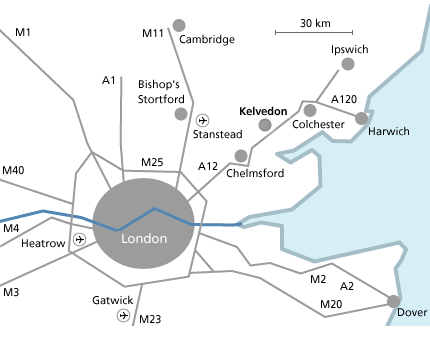 Travel times by car:
From central London via the A12, circa 1.5 hours depending on traffic density.
From Harwich via the A120 and A12, circa 30 minutes.
From the Thames Dartford Queen Elizabeth 2 crossing (tunnel and bridge) via the M25 and A12, circa 45 minutes.
From the Stansted Airport/Bishop's Stortford turn-off on the M11, junction 8, via the A120 and B1024, circa 45 minutes.
Kelvedon has a railway station which can be reached from London's Liverpool Street station. There are frequent trains (check they stop at Kelvedon) which take circa 55 minutes.
Kelvedon
Kelvedon is by-passed by the A12. If approaching from the A12, take the turn-off for the B1024 sign posted Kelvedon, Feering, Coggeshall, and Tiptree. SAILSetc is located about 1 mile (1.5 km) from the A12 turn-off in each direction.
If approaching from the east (from A12 and Colchester) you will cross the river at the Railway Tavern. From the north (from the A120 and Coggeshall) pass under the railway line and turn right onto the High Street at the Railway Tavern. Proceed along the High Street for about 500 metres. SAILSetc is just before the pedestrian crossing and on the right-hand side up a gravel driveway between the Parish Council Notice Boards and a white painted cottage.
If approaching from the west (from A12 and Chelmsford) you will pass the United Reformed Church on your left and, after another 150 metres, a pedestrian crossing. SAILSetc is up an obscure gravel driveway about 20 metres on your left after the pedestrian crossing.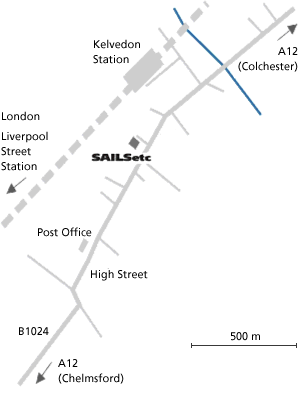 The barn
SAILSetc Ltd operates in a black weatherboarded barn. It is found up a narrow drive, situated next to the Parish Council Notice Boards which are located on the north side of the High Street road, 20 metres east of the pedestrian crossing. Some care is needed when driving in and there is a height limit of 1930 mm under the overhanging office building.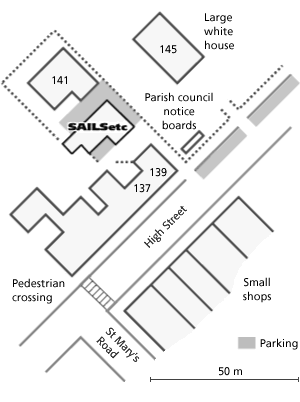 Parking space is limited but there is usually space for one or two cars. Our drive is also used for access to two other properties, so please park with consideration for our neighbours and do not park south of the barn building. The shaded area on the map shows the 'safe' areas. If your vehicle is higher than 1930 mm please park in the High Street or St Mary's Road. There is a public car park adjacent to the Conservate Club, opposite the Untied Reformed Church.
Visiting
Please note that SAILSetc is NOT a shop. We do not have a display area and do not keep sails or boats in stock. SAILSetc is a workshop which operates in normal work times, ie Monday to Friday, 8 am to 6 pm. This means we are not able to cope well with occasional callers and may not even be open.
To avoid an unproductive journey it is essential to make an appointment before travelling. Then we will try to avoid having other vistors here at the same time so that we can give you our full attention. We will ask you to give us a list of items needed in advance of your visit so that we can prepare them for you. This will give us more time to deal with any other needs you may have.
We are normally able to take appointments between 8 am and 6 pm. Graham and Lorna stop for lunch from 12 to 12.30 but the office is normally manned by Lili, David or Emma during that time.
Accommodation/tourism
If you need somewhere to stay we can put you in touch with local bed and breakfast type accommodation. Kelvedon is 1 hour 15 minutes from the university city of Cambridge, 1 hour 30 minutes from Norwich and the Norfolk Broads, and an hour from the quiet and pretty Suffolk coastline and Constable country. There are lots of good places to eat locally should you wish to combine your visit with other leisure activity.