Shipping Info
SAILSetc has NO facility to take payment on line. If you find anything asking for your card details here it is because the site has been compromised. Do not give any card data.
Post & Packing fees and payment
We will assess your order and then e mail you the total cost including shipping and handling. If you want to proceed with your order please make your payment. Currently this cannot be done on line (please see the Payment page or our FAQs section for the reasons) but you can use any of the conventional methods.
Customers paying by cash, cheque, bank transfer, VISA card or Mastercard will be charged 4% less than these figures.
If you would like to pay by credit/debit card we will need the card number, the expiry date and the security code from the back of the card. Please phone your data through.
Alternatively, for UK customers especially, please pay by BACS which involves no disclosure of your card or account information.
Delivery in the UK:
Goods in small packets are usually despatched by Royal Mail first class post. For heavier, longer or bulkier items we use Parcel Force. For masts, boats and multiple packs we use TNT.
Delivery outside the UK:
We use Royal Mail air mail where the size and weight of the packs permit or a carrier if it does not: TNT within Europe and UPS outside Europe.
When an item going outside the EU, we have to declare the value of the goods. This is the value that the postal services will take into account in the event of a claim for damage or loss of the goods.
If the item is tracked, insurance to £50 is included automatically, but if the value on the customs declaration exceeds this then there is an additional charge of £2.50 for insurance up to £250 outside the EU or £3 within the EU.
Mast tubes:
The cost of packing and sending a single mast tube may be more than for the mast tube itself and usually will not increase until more than 20 mast tubes are ordered. Consider purchasing a spare or several additional mast tubes to reduce the cost per mast tube.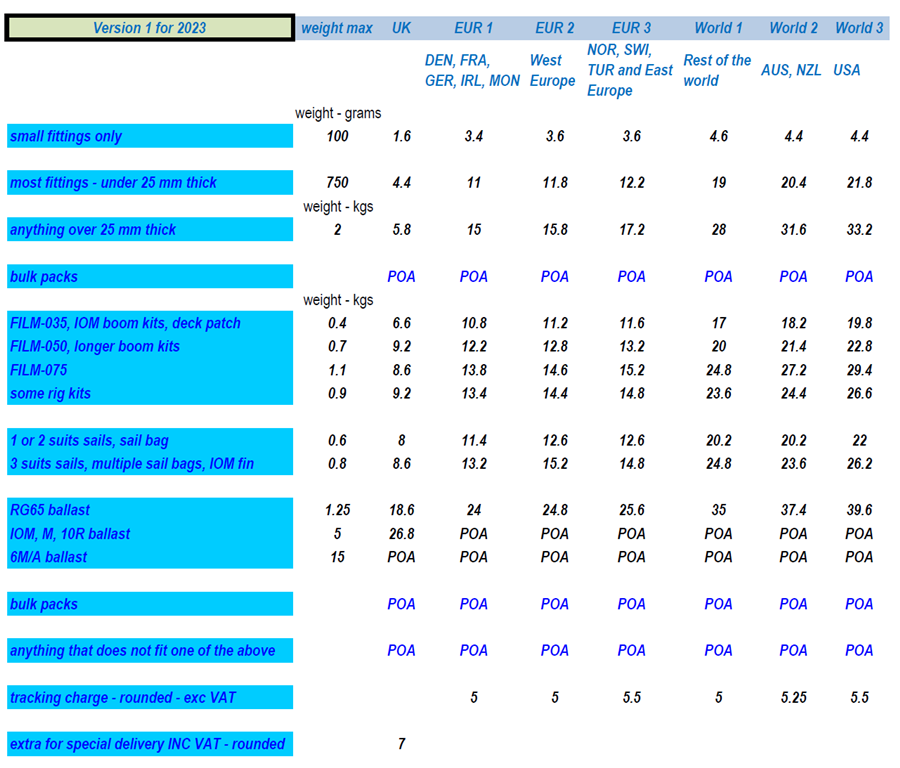 Uncertain how much to allow for postage? If paying by cheque you can avoid a delay by allowing a generous amount and we will refund, deducting any charges, or give a credit as you prefer.

Note 1: It is not always possible to pack all your goods together. Expect complex orders to arrive in more than one package and for larger items (ballast, spars) to take longer than small packs.
Note 2: Smaller items of high value and larger items are automatically insured for their full value wherever possible.
Note 3: Value Added Tax is included where necessary in the above rates.
•
Brazil accepts parcels up to 1050 mm only
§
Except Scottish Highlands& Islands, Northern Ireland, IoW, IoM - all Price on Application