Sails
Sails for 6M Class
SAIL CONSTRUCTION
STANDARD SAILS
Normally made of polyester laminate or a suitable alternative; mainsails are fitted with a headboard and luff finish as requested. Battens are fitted to comply with relevant class rules and as necessary. Mains and headsails each consist of a single panel of cloth and the luffs are shaped. The lack of shaping makes them suitable only for very small storm suits or non-competition models.
PANELLED SAILS
Fabrication from separate panels permits an extra degree of freedom in shaping the sails during construction. 6M No 1 Class mainsails comprise five panels, with the battens at the seams. Reduced luff length 6M mainsails comprise four panels. Headsails normally comprise three panels.
Choose between 75 micron film or, if you need more durable sails that will not crease so easily, choose the alternative (may vary between a laminate or a suitable alternative).
LIGHTWEIGHT SAILS
Made of 50 micron film with a panel of 75 micron film at the mainsail clew. For best light airs performance. Seams are not sewn.
SHAPING
PANELLED & LIGHTWEIGHT SAILS
The shaping built into these sails has evolved over a long period of time and many generations of design. It has been 'rationalised' and even non standard size sails can be built with the normal shaping which we call F2. We can also make sails with proportionately more or less camber. For convenience we call sails with 17% more camber F3 sails. F1 sails have 17% less camber.
MATERIALS
Film, woven and laminate materials
Usually 75 micron film is perfectly strong and stable enough for the smallest sails for the Six Metre Class. However, laminate cloths remains the best choice where sails intended for use in stronger winds will be exposed to rough treatment, for example if they have to be removed from the mast when sail changing. Laminate materials have generally replaced the use of woven materials. For all winds except the strongest film will produce smooth, stable, stretch resistant, sails that will give excellent performance for years if cared for. Keeping your rigs in a rig box will greatly extend the useful life of sails.
LUFF FINISH
HEADSAIL - STANDARD
A small pocket formed by a coloured, narrow, folded tape. It is essential to pass a wire forestay through this pocket before use - avoid damage - smooth the sharp end of the wire first.
HEADSAIL - NON STANDARD
A custom luff finish can be provided for the additional charge
MAINSAIL
EYELETS - for luff rings or cord ties; placed at the seams
CORD - for sails made of heavier material used on GROOVY mast
SLIDES - for sails made of film used on GROOVY mast
HOOKS - for a jackstay; circa 150 - 250 mm spacing
SMALL POCKET - for a jackstay inside the luff tabling

Please note
Sail prices quoted below are for EYELET or CORD mainsail luff finish. Where appropriate (LIGHTWEIGHT sails for GROOVY masts), SLIDES are fitted instead of a CORD luff at no extra charge to help the sail work well at very low wind speeds. The large pocket luff finish shown below is not permitted in the 6 Metre class.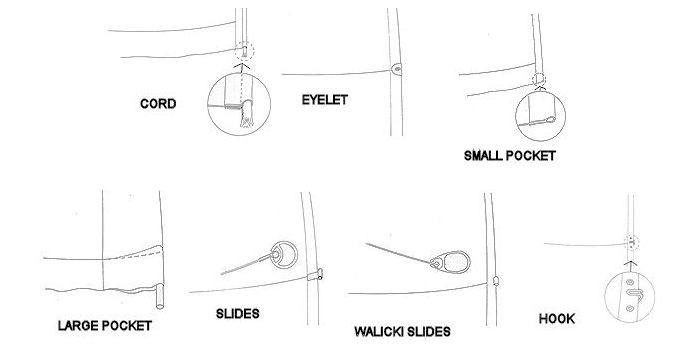 Product code: 6M-SAILS-LW

Product code: 6M-SAILS-PAN

Product code: 6M-SAILS-STA